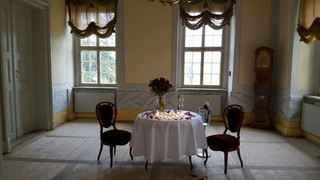 Family function, company event or conference – many of the rooms at Rammenau Baroque Castle and throughout its premises are available for rent. In our database, you can find information on capacity, seating arrangements and rental rates.
There you will also find our conference or wedding file to be downloaded.
You plan to make a marriage proposal in a very special ambience? For that purpose, too, Rammenau Baroque Castle has the right frame to offer – just talk to us.
Kontakt
We will be pleased to respond to your enquiries and will let you have an individual offer and quote. Simply contact us at:
Uwe-Torsten Kerl & Steffi Westerkowsky – – Family and Business Events, Fairs
Phone: 03594 703559
E-mail: rammenau@schloesserland-sachsen.de
Kathrin Glawion & Mareen Tzschoppe – Sparkling Wine Receptions & Weddings
Phone: 03594 703559
E-mail: rammenau@schloesserland-sachsen.de