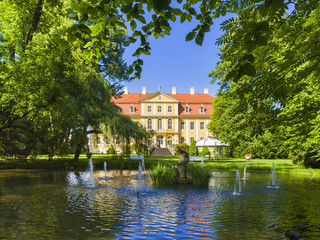 Rammenau Baroque Castle takes its special charm from the harmonious match of Baroque architecture and Classicist decoration in their interplay with the idyllic landscape. Stylish parlors, precious porcelain and enchanting murals are awaiting you during your visit of what used to be a summer residence.
Contact
Rammenau Baroque Castle
Am Schloss 4 | 01877 Rammenau
Property of State Palaces, Castles and Gardens of Saxony, non profit
+49 (0) 3594 703559
rammenau@schloesserland-sachsen.de
Reduced admission for refugees
For a moment of peace and distraction, refugees receive reduced admission to Saxony's most beautiful castles, palaces and parks.
Benefits with the schloesserlandCARD
Permanent exhibition
Free admission to the permanent exhibition

Special exhibition
Free admission to the special exhibition

Parks and gardens
Arrival & map
Next City: Dresden (46 km)
Arrival information: